Be Kind to Your Mind Contest for Mental Health Awareness Month
May 1 @ 8:00 am

-

May 26 @ 5:00 pm

CDT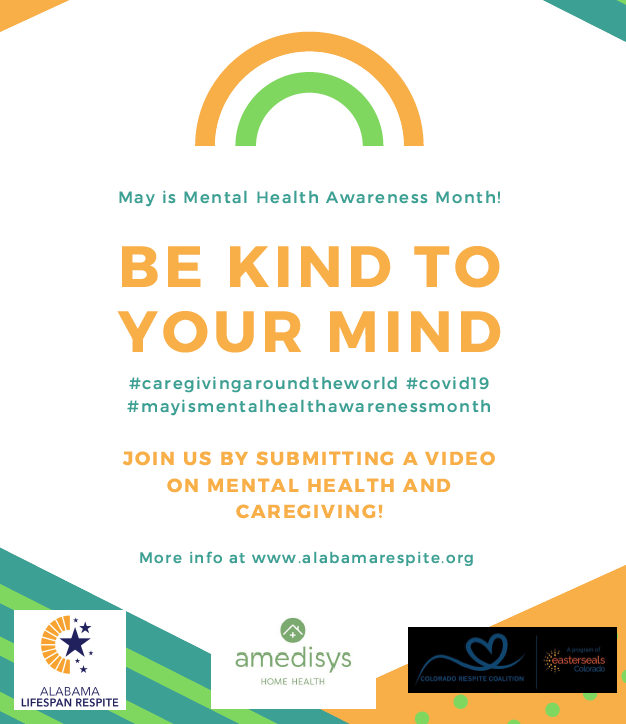 Celebrate
Mental Health Awareness Month
by creating a short video about caregiver self-care routines, mental health, advocacy, and/or self-awareness and submit it to Alabama Respite
by May 31
 for a chance to win one of four great caregiver prizes (one from each category below)!
iMovie, SnapChat, TikTok…anything goes! Get creative and have fun while raising awareness of caregiver mental health!
Categories:
1. Self-Care Routine: Show us the self-care routine you use as a caregiver to maintain your personal mental health. How do you connect with yourself?
2. Mental Health: What is your relationship with your mental health? How does mental illness impact your daily life?
3. Advocacy: Highlight the advocacy work you are doing to normalize conversations around mental health and caregiving. How do you connect with this message?
4. Self-Awareness: Share your personal perspective as a caregiver with mental illness. How does self-awareness impact your quality of life?
Rules:
1. You must be age 19 or older to enter.
2. Videos must be family-friendly.
3. By submitting your video, you are giving permission for your video to be shared online for the purpose of caregiver mental health awareness. (See disclaimer below)
How to enter:
Share your video via Google Drive at
bhuey@ucphuntsville.org
, or send a shareable video link (via YouTube or other online platform) to
bhuey@ucphuntsville.org
. Include your first and last name, email address, mailing address, and which category (1-4) your video is being submitted for.
How to win:
Winners will be determined by an online community vote. Once you submit your video, please share to your social media platforms and use the hashtag #mayismentalhealthawarenessmonth. Winners will be notified by email June 1, 2020.
Disclaimer:
By entering the Be Kind to Your Mind 2020 contest, I hereby authorize Alabama Lifespan Respite (ALR) to use, publish or republish my personal video story, including any video image of my minor children featured in the video. I also hereby authorize ALR to release personally identifiable information that I share with ALR, such as my first name or the first name of my minor child. ALR will not share your last name, phone or email. I understand that the purpose of ALR's use or release of the video images will be to promote caregiver awareness or initiatives and public education in which ALR is a participant or for use in conjunction with ALR's mission. I expressly waive all claims to compensation or damages resulting from ALR's use of the authorized images or information. I represent and warrant that any information that I provide to ALR is not subject to third-party copyright protection, and I waive any copyright claims I may have in them. I understand that this authorization for Photo/Video/Information Release can be revoked by me at any time by submitting a written request to: Alabama Lifespan Respite, 1856 Keats Dr. NW, Huntsville, AL 35810 or tracyc@ucphuntsville.org.